POSTPONED!
WATCH FOR NEW DATE TO BE ANNOUNCED
The first 3-D movie produced in Mexico, newly restored by the 3-D Film Archive. See it in in 3-D for the first time since 1954!
About this Event
Director: Edward Dein and Carlos Véjar hijo
Cast: Cesar Romero, Katy Jurado, Rebeca Iturbide
Screenplay: Edward Dein, Mildred Dein, Rafael García Travesi
Cinematography: Enrique Wallace
1953 | Mexico | 3D DCP | Approx. 80 min. | In Spanish with English subtitles
Cesar Romero (the "Latin from Manhattan" and future Joker of TV's Batman) and Katy Jurado (High Noon) as adventurers seeking treasure in a Moorish castle, in Mexico's very first 3-D movie, newly restored from the original 35mm camera negative and screened in 3-D for the first time since 1954. Plus the 3-D ballet short Black Swan (1952), an excerpt from Tchaikovsky's Swan Lake.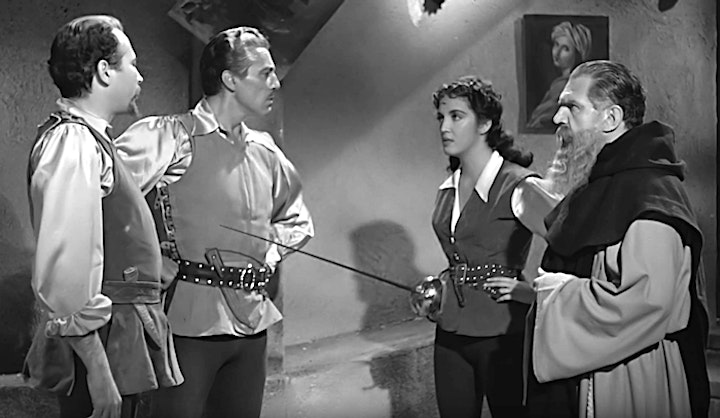 El Corazón y la Espada was filmed in 1953, during the peak of the 3-D movie craze, and was released in the red/blue anaglyph format in Mexican theaters in January of 1954, followed by a limited 3-D release to Spanish language theaters in the U.S. beginning in February, 1954. Two years later, a 2-D English language version was released in the U.S., retitled Sword Of Granada. The Spanish 3-D version was last screened in 1955 and the flat English version only aired sporadically on TV. After 1975, it disappeared entirely.
The 3-D Film Archive has restored this historic motion picture from the original 3-D left and right camera negatives. See it now for the first time ever in polarized 3-D!