Join 3-D SPACE and the Los Angeles Breakfast Club to see the classic film musical, 1953′s Kiss Me Kate in 3-D!
"Brush up your Shakespeare. Start quoting him now. Brush up your Shakespeare. And the women, you will wow!"
MGM brings one of the greatest Broadway musicals of all time to the screen in this star-studded 3-D adaptation of Kiss Me Kate. In a witty musical-within-a-musical of a play-within-a-play, composer/lyricist Cole Porter (Ron Randell) stages a singing-and-dancing version of Shakespeare's The Taming of the Shrew. His leading man, Fred Graham (Howard Keel), has promised a role to his girlfriend, Lois Lane (Ann Miller), but Porter has written the starring role for Graham's ex-wife, Lilli Vanessi (Kathryn Grayson).
Now, on opening night—with a full house in the theatre—a bouquet of flowers is delivered to the wrong dressing room: Romantic relationships will change; singing mob enforcers (James Whitmore, Keenan Wynn) will threaten; and Vanessi and Graham will realize their love has never waned…all before a paying audience.
Featuring songs by Cole Porter, including "Faithful in My Fashion," "Too Darn Hot," "I Hate Men," "Why Can't You Behave?" and "Brush Up Your Shakespeare," and dancers Bob Fosse, Ann Miller, Bobby Van and Tommy Rall.
See it as it was meant to be seen… in 3-D!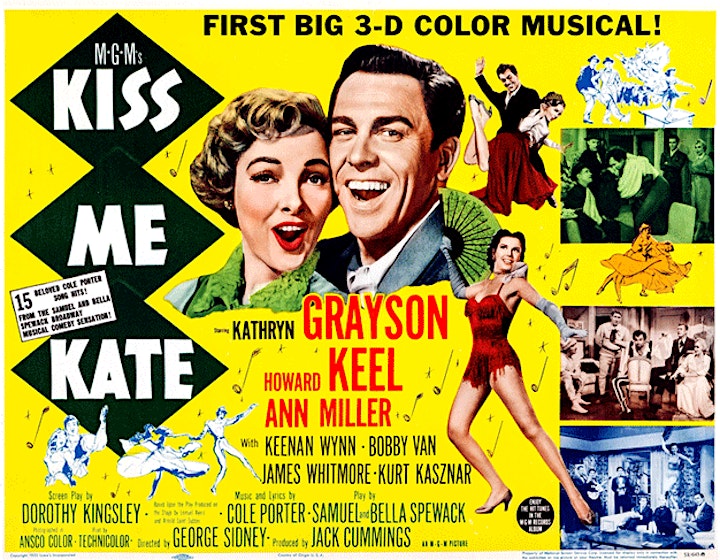 About this Event
Date And Time
Sun, February 23, 2020
7:00 PM – 9:00 PM PST
Location
The Los Angeles Breakfast Club
3201 Riverside Drive
Los Angeles, CA 90027